Craft Beer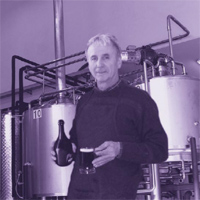 The beer I produce is a natural beer: double malt, unpasteurized, and refermented in the bottle, with no preservatives or carbon dioxide added. For this reason, it can be enjoyed by everyone. Even people who had never been beer-lovers developed a taste for it after having tried my beer.

It is a full-bodied beer, with an alcohol content between 5.2° and 7.5° and saccharometric degrees of 15.5 to 17.5, according to the quality.
The flavour good beer, as that of good wine, is in continuous evolution and, if kept in the cellar far from sources of heat, the beer can be kept far beyond the expiry date.

Generally speaking, we can say that Italian craft beer is still in its infancy. A lot has been done but much still remains to be done in raising awareness among consumers and reminding them that there is also this kind of beer to be enjoyed.
Those of you who have already bought and drunk craft beer have certainly noticed the difference in taste and, if you have tasted different types of beer from the same brewery or from different breweries, you will have encountered a delightful variety of flavours, aromas and colours. You will also have seen a difference in price. This is not due to a desire of the craft brewers 'to get rich quick', but to the real costs associated with high quality and limited production.
As we all know, the lower the production volume, the greater the fixed labour costs, capital costs, overheads and depreciation (practically all the facilities of Italian microbreweries are relatively new; as a case in point, mine was founded in 2008).
So, if you spend a little more for quality craft beer, you should know that this is its rightful price and that there is an enormous amount of work carried out by the producers behind the scenes to provide you with a unique, limited production beer.
Read all about La Birra di Meni